Game - Phoenix - Atari 2600 | Атари 2600 | A2600
584 games Atari 2600



---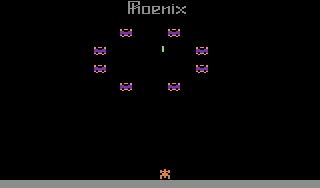 Phoenix
Atari 2600 - A2600
Phoenix is ​​a shoot 'em up arcade game developed by Amstar Electronics (which was located in Phoenix, Arizona) in 1980, released by Centuri in the US and by Taito in Japan. Pirated versions of Phoenix have been released by TPS and others. Atari also ported the game to the Atari 2600 console in 1982.
Like many arcade games of that era, Phoenix is ​​a top-down space-themed fixed shooter, similar to taito's space invaders. The player controls a spaceship that moves horizontally across the bottom of the screen while shooting upwards. Enemies, usually one of two types of birds, appear on screen above the player's ship, shooting at it and periodically diving towards it in an attempt to crash into it. In addition to rockets, the ship is equipped with a shield that can be used to zap any of the alien creatures that try to crash into the spaceship. However, the player cannot move while the shield is active, and must wait for a short period (approximately five seconds) before using it again.
Phoenix was one of the first full color slot machines, along with galaxian and it stood out at the time. In addition, it has distinctive shooting sounds that have become familiar to fans of the genre. Most importantly, the Phoenix Mothership was one of the first video arcade bosses to be presented as a separate challenge. It was also available in arcade and cocktail cabinet chassis formats (a DIP switch setting allows the game to be moved between formats).
---
GAME INFO
---
Platform:
Atari 2600 (A2600)
Programmers:
Feinstein, Michael / Mracek, John
---