The game - Robot Tank - Atari 2600 | A2600
584 games Atari 2600



---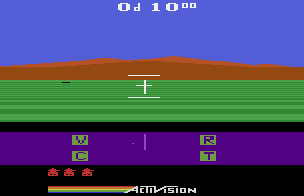 Robot Tank
Atari 2600 - A2600
Robot Tank is a 1983 video game for the Atari 2600. It was designed and programmed by Alan Miller and published by the then fledgling Activision.
The game has the player remotely control a futuristic tank robot whose task is to stop the enemy rebel tanks rampaging across the area to reach downtown Santa Clara, California, USA. The tank is equipped with a radar to detect enemy squadrons.
The game was innovative in that instead of the player, the tank is destroyed when hit by a projectile from the enemy, it was simply damaged, losing some capabilities such as radar or speed (enough damage would eventually destroy the tank). The game also features 24-hour gameplay (meaning a fight can take place at any time of the day or night) and weather changes (rain, snow, fog), which add to the difficulty in tracking down enemy combatants.
The enemy is organized into squadrons. Having defeated the enemy squadron, the player earns an additional reserve tank. The game ends when all the player's tanks are destroyed.
---
GAME INFO
---
Platform:
Atari 2600 (A2600)
Programmers:
Miller, Alan
---