The game - Snoopy and the Red Baron - Atari 2600 | A2600
584 games Atari 2600



---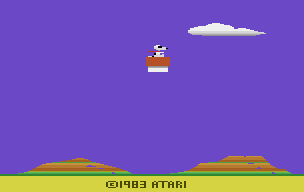 Snoopy and the Red Baron
Atari 2600 - A2600
Snoopy and the Red Baron is an Atari 2600 game that features the comic strip peanut Snoopy and his aviation rival, the Red Baron.
Snoopy and the Red Baron in a single player game, directing Snoopy to the booth with four difficulty variations to play. The goal is to knock down Snoopy's opponent, the Red Baron, control the stick to maneuver Snoopy's button and fire. The game begins with the player holding four dog kennels, otherwise known as lives. It takes eight hits to destroy the Red Baron, and eight hits from the Red Baron to make the player fall out of favor.
An alternative concept is to collect "heals" the Red Baron drops when falling, and to avoid skulls and bones. Touching the skull and crossbones or being knocked down will cancel the player's progress in collecting heals. If the player collects all heals and drops all red barons, Bonus points will be rewarded. A Golden Baron is earned when the player drops fifty Red Barons.
In the game, the Red Baron often flies above the clouds, however, Snoopy cannot fly above the clouds in the game settings. An exclamation point appears when you have scored a million points.
Snoopy and the Red Baron are often criticized for their seemingly tricky AI and low difficulty; however, it should be noted to include that Snoopy, it looked rather okay for a stint on the Atari 2600.
---
GAME INFO
---
Game name:
Snoopy and the Red Baron
Platform:
Atari 2600 (A2600)
Programmers:
Turner, Nick / Dobbis, Richard
---