Game - Strategy X - Atari 2600 | Атари 2600 | A2600
584 games Atari 2600



---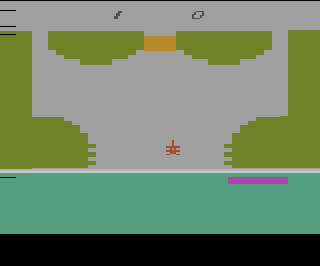 Strategy X
Atari 2600 - A2600
Strategy x is a top shooter arcade game developed by Konami in 1981 in which the player takes control of a tank to advance through various stages, defeating enemies and collecting fuel.
1st level: Defend against spinning cannons. 2nd level: watch out for the attack on the jeeps 3rd level: watch out! Here come the attacks and shooting 4th level of tanks : again rotating cannons, but this time on a moving background.
An audible signal warns that it is time for refueling. Enter the fuel dock and get 100-300 points. The life of a tank commander is not easy.
Apart from the battle going on, he must watch out for obstacles and rough terrain. Brick walls destroy tanks, although they can be hit. TNT, a rather nasty thing...explodes when fired, but destroys all objects in the area. Stay pink backgrounds. That's where the land mines are buried. They only explode on contact. Don't worry about the blue background. This is a slip zone like an oil slick and can be driven through. If the alien base is found and destroyed, move on to the next level of difficulty.
---
GAME INFO
---
Platform:
Atari 2600 (A2600)
---