Game - Super Breakout - Atari 2600 | Атари 2600 | A2600
584 games Atari 2600



---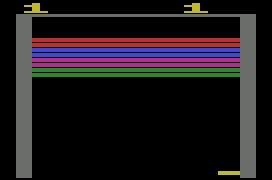 Super Breakout
Atari 2600 - A2600
Breakthrough success led to the development of the Super Breakthrough a couple of years later. At first glance, they are very similar to Breakout - the layout, sound, and overall behavior of the game is identical - Super Breakouts is a microprocessor-based game instead of discrete logic programmed by Asteroid programmer Ed Logic using an early M6502 chip. He developed the Super Breakout after hearing that Nolan Bushnell, the founder of Atari, wanted the Breakout updated. Therefore, a super breakthrough can be successfully implemented in mame, as well as in a number of different Atari compilation packages. The original arkanoid ≠ was not shown, since there is no processor in the lead - the game would have been more of an imitation than an example to follow.
In Super Arkanoid, there are three different and more advanced game types from which the player can choose:
Double gives the player control of two bats at the same time-one over the other-and two balls. A life loss only occurs when both balls go out of play and the points are not doubled, while the player can match both balls without losing either.
The cavity retains one bat and a breakout ball, but the other two balls are enclosed on the other side of the wall, which the player must release before they too can be used to destroy additional bricks. The points increase, but triple points are available if the player can keep all three balls in play.
Progressive also has one bat and ball, but the ball hits the oars, the whole wall is gradually moving down, step by step, picking up speed, the more the ball is kept in play.
---
GAME INFO
---
Game name:
Super Breakout
Platform:
Atari 2600 (A2600)
Programmers:
Turner, Nick / Shaw, Carol
---