The game - Tomcat - The F-14 Flight Simulator - Atari 2600 | A2600
584 games Atari 2600



---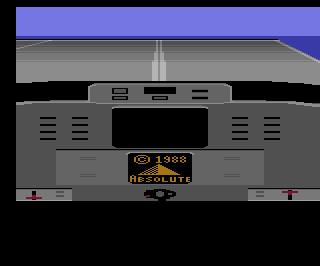 Tomcat - The F-14 Flight Simulator
Atari 2600 - A2600
Become an F-14 naval aviator experiencing search and destroy missions while dodging and shooting enemy aircraft in deadly combat with 20mm cannon and air-to-air missiles.
The remote control comes with state-of-the-art technology, courtesy of the US Air Force: a display and main computer, a bogey alert indicator, an overload indicator, electronic countermeasures, and a cannon overheat indicator (yes, it can overheat!...and if your feeling for it, give it a ol bird push to Mach 1.0!
Gameplay like in other simulation games consists of takeoff, flight, fight and landing. Although most of the gameplay is centered around fighting enemy ghosts (dodging missiles). In addition to this, there are also night mission flights that add to the difficulty due to limited vision.
Takeoff and landing also requires extra skill, as you do it on the USS Enterprise (nothing to do with Star Trek) and not on a standard airstrip. Pay attention to Officer F.D. as yours prepares for takeoff (since he's the boss when it comes to these things...and try not to run after him...yet).
The weapon consists of an M 61 machine gun and 3 different AIM missiles (target 7, 9, 54) each packed with 15 missiles (that's a lot of missiles!).
After each mission you will receive a Mission Rating which is based on your skill, the number of bogeys to kill and the number of weapons fired.
---
GAME INFO
---
Game name:
Tomcat - The F-14 Flight Simulator
Platform:
Atari 2600 (A2600)
Publisher:
Absolute Entertainment
Programmers:
Kitchen, Dan
---