Game - Interstellar Wrestling League - HyperScan | HYPERSCAN
6 games HyperScan



---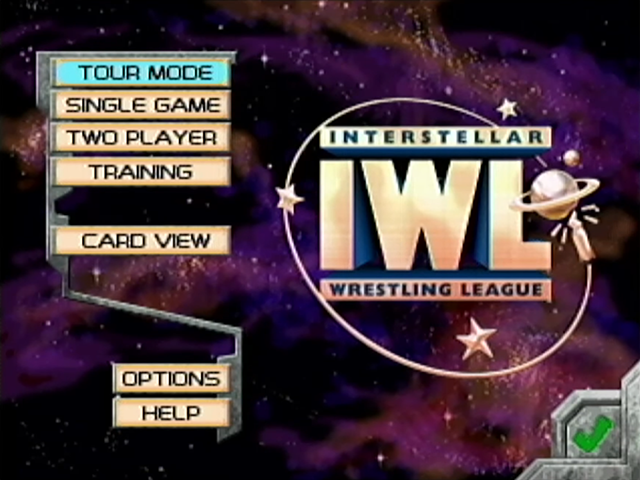 Interstellar Wrestling League
HyperScan - HYPERSCAN
Interstellar Wrestling League, or IWL, was the third game for the HyperScan console, a cartoonish fighting game in which all the characters are made up of robots and aliens.
Story
Idaho Jones challenged the most powerful fighters in the solar system to epic all-out brawls to determine who would wear the IWL championship belt.
Choose your character, either "face" (nice guy) or "heel" (not so nice guy). Then hit, kick, throw folding chairs and use a hilarious secret weapon against the toughest fighters anywhere!
But as you win match after match, Jones secretly harvests the energy emitted during massive brawls to transform himself from a lowly "potato" into the most powerful and short-tempered psychopath in the entire galaxy - Uber Tuber!
In the final battle, your character will take on Idaho Jones, the Uber Tuber. Remember that the last kick to his "Tator children" is your title.
Gameplay
The game begins when you are prompted to scan a character card. If you are playing in 2 player mode, the second player will also be prompted to scan the character card. Otherwise, choose your opponent and proceed to the modification part of the game.
After choosing a character, you will be prompted to scan the mod card before playing. These cards will change your character's physical attributes until you exit to the main menu or scan another character card.
Then choose a venue (except tour mode) and go to battle!
Each fight consists of three preset rounds of 1 minute and 45 seconds. The best two out of three win.
You win the round either by knocking out your opponent or by having the most health at the end of the round.
At each IWL location, wrestlers will face unique dangers. These obstacles appear randomly during bouts and can affect any fighter, so be on the lookout.
In each round, you will have the opportunity to scan one in-game MOD card. Cards give your characters extra cool moves that last for a limited period of time or use per game. You want them all to see what they are doing!
little things
Even with unreleased games, IWL remains the only original game on the console. It is also notable for being one of only two non-Marvel games released for the console, the other being Ben 10. IWL is one of the first three games and the cards have 2 different back styles. The later substrates have the purpose of determining where the RFID chip is located, while the earlier substrates do not.
---
GAME INFO
---
Game name:
Interstellar Wrestling League
Platform:
HyperScan (HYPERSCAN)
---