The game - Brutal Sports Football - Atari Jaguar | JAG
80 games Atari Jaguar



---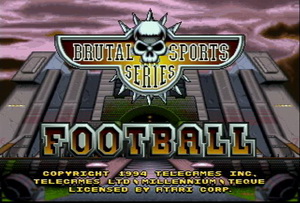 Brutal Sports Football
Atari Jaguar - JAG
The game features an oval ball that the player can throw or pass (the latter often resulting in special types of shots). In addition, you can destroy other players. The game has a lot of blood and severed limbs, which gives the gameplay a touch of brutal humor. There are four leagues in the game.
Reviewers generally praised the game quite highly, noting the fast-paced and brutal gameplay that encourages players to compete against each other. Among the shortcomings of the game is the lack of smoothness of graphics and the incomplete use of the sound capabilities of the equipment.
---
GAME INFO
---
Game name:
Brutal Sports Football
Platform:
Atari Jaguar (JAG)
Developer:
Teque London Ltd.
---