Game description 10-Yard Fight - Dendy (NES)
In the base 2233 games Dendy



---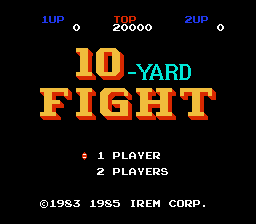 10-Yard Fight
Dendy - NES
Game Dandy - 10 Yard Fight (The Battle for 10 yards) - American football simulator. One of the earliest games on the console. Hence avarice graphics and sound. But the play is quite interesting, especially together.
Everything that happens on the field in the game Dandy - 10 Yard Fight, the player sees the top. As the movement of the ball, the camera moves up or down. In the game with five levels of difficulty:
- High scool team (High School),
- College (College),
- Professional (Professional),
- Playoff (playoffs),
- the bowl of the Super (Super Cup).
Game Dandy - 10 Yard Fight (The Battle for 10 yards) starts at the easy level - high school. After successful completion of the game, it starts all over again at a more complex level. During the match the team can act as attackers or defenders on the field 10 yards. The attacking team has the ball and its main goal is to reach the end of the field touchdown (touchdown), in this case, the team earns points. Defenders must prevent attackers and intercept the ball. In the game the game is limited to one match is given 60 minutes to 30 minutes at a time.
Really not a bad football game simulator for Dendy (NES), a minimum of text, maximum action.
The purpose of 10-Yard Fight game - to collect maximum points, poised ball into the end zone of the opponent touchdown (a touchdown) or scoring in the gates of the field field goals (field goal). Team wins the game with the highest score.
The game simulates soccer, by the way, is quite rare. It is interesting to play it only to those who have at least a little familiar with their rules of football.
Game 10-Yard Fight primarily suited to taste to those who love football. The graphics and sound in the game are not distinguished, the gameplay is also not the coolest. For the average player - vryatli will somehow hit and vryatli interest.
10 Yard equals 9.144002 meters!
---
GAME INFO
---
Publisher:
Irem, Nintendo
---