Game description Asmik-kun Land - Dendy (NES)
In the base 2233 games Dendy



---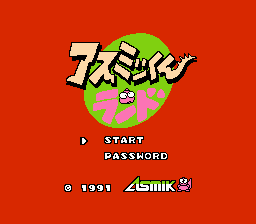 Asmik-kun Land
Dendy - NES
Children's arcade. It is executed in pastel tones. Very harmlessly and nicely. It is recommended to persons of preschool age, will hardly interest the others. Despite it it is impossible to call a game a failure. "Asmik" is not only the name and a mascot of the igrodelny company, it also the hero of a nice platformer!
monsters from other corners of the Universe began suit to
In the world of dragons disorders. The only thing that can save the world of dragons from final fracture is six Bogov-Drakonov. Unfortunately, they are in hibernation, and nice by sight a pink drakonchik Asmik (Asmik) decided to save the world. It needs to find and wake Gods, did not become absolutely late yet.
"Asmik" - very qualitative platformer on many aspects. Game process is easy in development: moving from left to right, our dragon jumps on platforms, turns aside from enemies and turns them into eggs. Quite difficultly (it is even a shame) to describe process of transformation of the enemy into egg because it is painfully similar to the most widespread way of a conclusion of excess gases from intestines. Let's leave it on conscience of the developer. Eggs are necessary for purchase of bonuses (which can be bought through the menu at any time), their about ten, with different action.
Game "Asmik" it is completely sated with game elements and how many not superfluous, even a sudden attack of a hiccups at the hero though it adds a little funny nature to a game.
Graphically a game is performed by
in the spirit of "Super Mario World 2 - Yoshi' s Island" for of SNES . A sound row does not lag behind, music and sounds very pleasant and do not bother. Game is recommended to passing!
---
GAME INFO
---
Game name:
Asmik-kun Land
Publisher:
Asmik Ace Entertainment, Inc
---