Game description ASO - Armored Scrum Object - Dendy (NES)
In the base 2233 games Dendy



---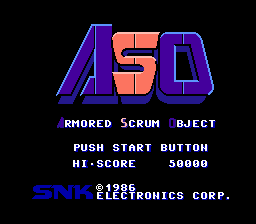 ASO - Armored Scrum Object
Dendy - NES
Quite old, primitive letalka-shooter game game with the top view. The small ship starts with a platform and begins to bring down clouds of enemies. In an arsenal, as ordinary guns, and something like torpedoes. Here what in a game awful, so it is even not music, but the SOUND which replaces music. For the rest not bad.
In a far galaxy of Tetrenov cruel wars raged. Eventually, opponents so exhausted each other that on ruins of the old world of an opportunity to live was not any more. Having united, old opponents moved off in searches of the new worlds, suitable for life. And soon researchers came across the planet Earth which looked the quite good candidate for the habitat. Also new war, perhaps, the last for them began. At the same time on Earth release new military development – of ASO – spaceship of the last generation. You also should steer this ship in the course of the game.
"ASO: Armored Scrum Object" (in the USA and Europe also quot is known as ; Alpha Mission") is one of a set of skroll-shooters on a space subject, however, to it is what to be allocated against the background of fellows. Collecting bonuses, it is possible to switch in one of eight fighting formations of the ship, each of which differs from others. It is good to formation to use for certain situations, for example a formation "Octo"the formation & quot are useful for shooting of the enemies who surrounded you, and; Fire"it is capable to destroy both air, and land objects.
Game "ASO: Armored Scrum Object", of course, concedes to the genre fellows who left later, but for 1986 it looks very much even not bad.
---
GAME INFO
---
Game name:
ASO - Armored Scrum Object
Developer:
SNK Electronics
---