Game description Athena - Dendy (NES)
---
---
---
---
In the base 2233 games Dendy



---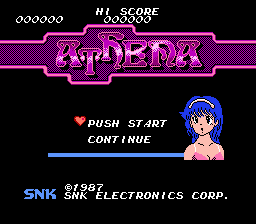 Athena
Dendy - NES
A browser about the girl with blue hair. First she kicks enemies with legs, but then selects more and more any bludgeon. Also it can change clothes in the clothes found at the level. In general, a game extremely nice for the age. Though music leaves much to be desired.
"Athena" - unusual mix of a platformer and role-playing game which came to prefixes from gaming machines made port the & quot company; Micronics".
the Main character of a game - the Greek goddess of wisdom Athena (Athena), bored it monotonous life, and that somehow to diversify it, it goes to fight against Faust.
Though a game in essence presents to
a platformer, in it there are also RPG elements: various equipment and possibility of its pumping. But, you do not hurry with conclusions, in a game bad balance of forces. Enemies constantly appear from nowhere and from all directions, and weapon sometimes comes across absolutely inconvenient. At transfer from more powerful automatic machine of the schedule by opportunities lost almost all appeal.
---
GAME INFO
---
Developer:
SNK Electronics
---