Game description 3-D Block - Dendy (NES)
In the base 2233 games Dendy



---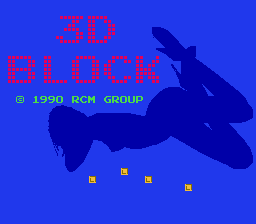 3-D Block
Dendy - NES
3D Block game is a three-dimensional Tetris with top view of the bottom of the glass with figures. Adding a third dimension greatly complicates the gameplay. There are several versions of the game from the 1989 and 1991 differ in the cartridge features that allow or not to make additional visual effects, which are currently emulators however not supported.
Rules 3D Block in the game are the same as that of his fellow flat, but here everything takes place in three dimensions. Add some variation in the rotation of the figures, but the big disadvantage is that because of the third dimension is very difficult to understand the conglomeration of forms on the screen.
3D Block unusual three-dimensional Tetris - in it you can see the figures are not from the side, as in the classic version, and on top, so the game difficulty increases significantly. In front of you like a deep well, the bottom of which is omitted, various units. In terms of the game is no different from the usual functional game of Tetris - falling figures can be rotated and accelerated, and the overall speed of the game increases with time. Like this game or not is hard to say in advance, but at least try to play it is worth it.
---
GAME INFO
---
Genre:
Logical game. Puzzle
---