Game description 4 Nin Uchi Mahjong - Dendy (NES)
In the base 2233 games Dendy



---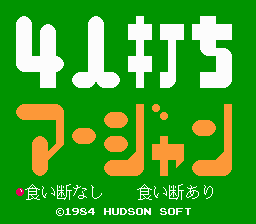 4 Nin Uchi Mahjong
Dendy - NES
Game 4 Nin Uchi Mahjong - a simulator board game Mahjong. Many people know about the game of mahjong, where you have to remove pairs of dice with the same pattern. But the fact that it is also a game of chance, not everyone knows. To understand the essence of mahjong, the easiest way to treat it as a card game, but instead of cards here bone.
Reckless version of the game resembles Poker: you need to be very careful and calculating the combination, just need to have a good memory.
The game is played by 4 players, each plays for himself. Just the presence of 144 bones (nearly three times more than in poker).
4 Nin Uchi Mahjong - simple mahjong based on the Japanese rules variations. Fans of mahjong is worth a try, and the rest is better to pass - it still does not understand.
---
GAME INFO
---
Game name:
4 Nin Uchi Mahjong
---