Game description Sword 645 - Dendy (NES)
In the base 2233 games Dendy



---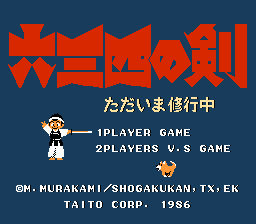 Sword 645
Dendy - NES
The game Sword 645/645 Sword unpretentious old walker about a boy named Musashi Kendo. Side view, the screen moves from right to left, and the boy in traditional baggy trousers and with a sword at the ready on the level runs. At the bottom of the screen runs a dog, you need to reach the finish line before it reaches it.
For those times, this game Sword 645/645 Sword was with good graphics, but in today's world as you know it is a low level. But it is not worth paying attention to. Musical accompaniment as it could have been better, but that if the game were created much later.
The game has a lot of bonuses and a lot of surprises that you like. Each level is virtually identical to the previous one. The game has many levels and all of them quite difficult to pass at a time.
645 Sword / Sword 645 this time you come up with the old game, which is made in the genre walker. You will manage a samurai who has to fight against creepy zombies. In this game you need your accuracy in movement and agility. You need to move forward with a very strong rate if the dog is in the bottom of the screen you will overtake, you lose.
---
GAME INFO
---
Publisher:
M.Murakami/Shogakukan, TX, EK
---