Game description 720 Degrees - Dendy (NES)
In the base 2233 games Dendy



---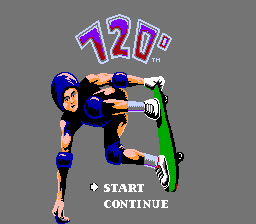 720 Degrees
Dendy - NES
720 Degrees - a simulator skateboarding. The game is made in a pseudo-three-dimensional perspective, and the player it will have to perform a lot of different tricks and earn points.
The game is very difficult to learn, you will constantly fall into the water or crash into pedestrians and cars, just like in real life. Gameplay consists of riding through the city, participation in competitions, making money and winning medals. The money can be spent on the purchase of equipment.
The main hero of the game 720 Degrees is young skateboarder who has to go through four levels (skate park), performing tricks, earning points, medals, money and buying new equipment. Parks virtually nothing from each other do not differ, and they are filled with identical pools of water, shops, ramps and some strange people. Also in the game 720 Degrees on each level, there are four tests: Downhill, Ramp, Jump and Slalom, to get to the next level you need to go through them all. Screenshot of the game tests are very bleak and boring spectacle, and parks as well as almost no change from level to level. The game has a very ruthless timer when the time is up, then there is the famous inscription Skate or Die, and with it a flock of aggressive bee-eater, who begin quite quickly chasing skateboarder,
---
GAME INFO
---
Developer:
Atari Games Corporation
Publisher:
Mindscape, Inc.
---