Game description 8 Eyes - Dendy (NES)
In the base 2233 games Dendy



---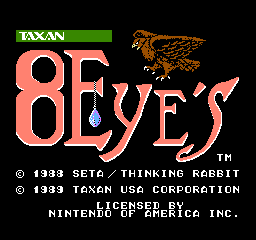 8 Eyes
Dendy - NES
8 Eyes - exciting game Castlevania clone with some distinctive features. For example, in the battle helps you manually Orin falcon, which can control the second player. To complete the game you need to overcome the 8 Dukes, each of which is located in the castle, and the order progress through the levels, you can choose yourself, just like the Mega Man. After the player collects all 8 gems they should be attributed to the Altar of Peace, and arranged in a specific order that you can learn from the tips during the passage of levels. about a brave hero named Orin, who along with his faithful friend-falcon curtus must fulfill an important mission. A mission is this: to visit the residences in eight different parts of the world and collect gems, called Eyes (Eyes).
On the cover of the game 8 Eyes it looks very tempting, but the impression of falling apart after the start of the first level. Let's start with the fact that the single-player game falcon, the main feature on which the developers have focused almost uncontrollable and useless at the game together the situation is better, but not much. In choosing a few levels of meaning, as they still have to take place in a certain order, otherwise the risk to break off the teeth of the prohibitively difficult bosses. 8 Eyes is very difficult and incredibly boring game. In Orin such a short and miserable sword that hit the enemy and yourself when it does not run into the enemy's sword is almost impossible, we have to use tactics ran, hit, ran to provoke terrible since most enemies refuse to be killed with a single blow. The game has a bit of extra weapons and powerups,
Game gameplay 8 Eyes is to walk through the rooms in which we have to climb without stopping the various enemies, and there is no end to them. In these rooms are often different levers that need to activate the blow of the sword or the skill to swoop down on them a falcon.
An interesting nuance - in two-player mode the second player takes over the management of a falcon, so the game becomes more interesting, and the passage becomes not so complicated. From defeated enemies sometimes drop ancillary items, such as swords or throwing balls, immobilize enemies.
Graphically, the game is not very impressive, especially when compared with published around the same time the Contra, but still it is able to catch due to varied gameplay. In general, 8 Eyes - the only game that the reviews along with a rating of 100% and 0% received!
---
GAME INFO
---
Developer:
Thinking Rabbit
Publisher:
Seta Corporation/Taxan
---