Game description A Ressha de Ikou - Dendy (NES)
In the base 2233 games Dendy



---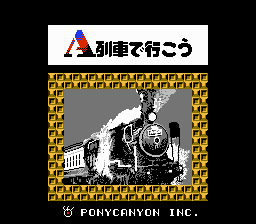 A Ressha de Ikou
Dendy - NES
Game A Ressha de Ikou a kind of SimCity. Only it is not necessary to build an entire city and the railroad. The game is very addictive from the beginning, if we carefully learn to manage, proof of which are in the game and called at any time. Gameplay takes place in real-time with the change of the day, on which depends the fact that can make a locomotive. Since the game is in Japanese, the only thing that is clear to 100% - it wagons, standing on a siding, they need somewhere to send. And when the end rails, their number can be replenished at the first station, and then just drove up to the stack with the rails.
A Ressha de Ikou or, better to say, A-Train - this is a game that has become the ancestor of a huge series of simulators railway.
In A Ressha de Ikou you have to stand at the helm of the railway company and by order of the president of some unnamed countries to build a railroad from coast to coast. The game takes place in real time and you can watch the constant change of time of day, and in some periods of time generated reports, where you can see your progress and the progress of the competing companies. This is the first game of the series and therefore has the simple gameplay.
A Ressha de Ikou never released outside of Japan, and has not been translated into other languages, so that without knowledge of Japanese is quite difficult to play.
---
GAME INFO
---
Game name:
A Ressha de Ikou
---