Game description Man $ Kid 100 - Maboroshi no Teiou Hen - Dendy (NES)
In the base 2233 games Dendy



---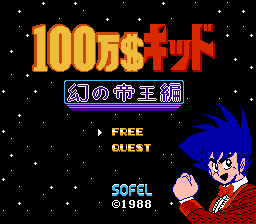 Man $ Kid 100 - Maboroshi no Teiou Hen
Dendy - NES
Game 100 Man Kid - Maboroshi no Teiou Hen is a virtual casino. Your choice presented several gambling:
- Poker
- Black Jack
- Roulette
- The one-armed bandit.
The game is quite interesting in its genre. Fans to play in the game data, the game should be like.
Of course, your goal in the game is to collect as much money as possible by defeating rivals.
An interesting feature - in the game there are two game modes:
- free,
- adventure.
In the second version of the game, in addition to the game, you will run through the casino and talk to different people.
Simulation game of slot machines. You can play the game 100 Man Kid - Maboroshi no Teiou Hen in the quest version and simply machines. Initially in your pocket just $ 100.
---
GAME INFO
---
Game name:
Man $ Kid 100 - Maboroshi no Teiou Hen
---