Game description Abarenbou Tengu - Dendy (NES)
In the base 2233 games Dendy



---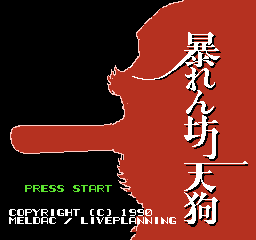 Abarenbou Tengu
Dendy - NES
Game "Abarenbou Tengu" little unusual horizontal letalka-shooter game. You act as the huge head bearing horror and destructions. It is necessary to bomb and set fire to houses, to eat the people who dropped out of a window and also to turn aside from beams of air defense, tanks and helicopters. For eating up of people, energy and after achievement of a certain level collects, the head becomes impregnable for some time.
Though graphics in "Abarenbou Tengu" and not the most outstanding, but, nevertheless, a game turned out quite good at the expense of the excellent drive. It can quite be advised fans of a genre of the skrollingovy shooters and games anyway connected with the zombie!
Outside 1999, fell in the desert Nevada, apparently, at all a harmless meteorite. However in practice quot was this meteorite also; Darc Seed"- alien powerful being. The beams it turned America into the country of the zombie and recovered, having subordinated to itself, the Statue of Liberty so now the great symbol of the American people began to be engaged in deeds of evil everywhere. In addition, the alien creature took control of all weapon of Earth, except a great samurai sword of Schur. When the Supreme Samurai (shogun) learned about disasters in America, he immediately took a sword and went to save the country, others for it. Because only it had force and knowledge capable to subordinate to itself(himself) a sword and to direct its energy of good against the conqueror.
The long background promises to
uniqueness of a game. In a game we operate the unusual flying subject - the zombie's head. Unlike the American version, here we see not the head of the Samurai of Namakubi, but the head of a mythical being of Japan - Tengu (it is traditionally represented with a long nose). She attacks shots from an eyeball and vomiting from a mouth. Enemies do not doze and will constantly exasperate us - here to you and the zombies snipers (who sat down on roofs of skyscrapers), both helicopters, and some at all unclear devices. But in all this turmoil not to forget the main thing - we also we save good zombies! In a game we are waited for 4 stages and, respectively, by 4 bosses. If you pass all these tests, then will be able to throw down a challenge Darc to Cyd in final fight.
Though graphics
---
GAME INFO
---
Game name:
Abarenbou Tengu
---