Game description Action 52 - Dendy (NES)
In the base 2233 games Dendy



---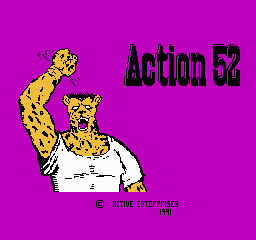 Action 52
Dendy - NES
The collection containing exclusively original informal toys. Their most part rather unpretentious both in respect of a game, and in the technical plan.
In structure of the collection "Action 52" 52 games:
-Fire Breathers;
-Star-Evil;
-Illuminator;
-G-Force Fighters;
-Oooze;
-Silver Sword;
-Critical Bypass;
-Jupiter Scope;
-Alfredo and the Fettucinni' s;
-Operation Full-Moon;
-Dam Busters;
-Thrusters;
-Haunted Hills of Wentworth;
-Chill-Out;
-Sharks;
-Megalonia;
-The French Baker;
-Atmos-Quake;
-Meong;
-Space Dreams;
-Streemerz;
-Spread-Fire;
-Bubblegum Rosie;
-Micro-Mike;
-Underground;
-Rocket Jockey;
-Non-Human;
-Cry Baby;
-Slashers;
-Crazy Shuffle;
-Fuzz Power;
-Shooting Gallery;
-Lollipops;
-The Evil Empire;
-Sombrero' s;
-Storm Over the Desert;
-Mash-Man;
-They Came From Outer Space;
-Laser League;
-Billy-Bob;
-City of Doom;
-Bits and Pieces;
-Beeps and Blips;
-Manchester Beat;
-Boss;
-Dedant;
-Hambo' s Adventures;
-Time Warp Tickers;
-Jigsaw;
-Ninja Assault;
-Robbie and the Robots;
-The Cheetahmen (The Action Gamemaster).
"Action 52" is, perhaps, the only mnogoigrovka which has in structure different games, but not 11111 versions of one game, as on many piracy cartridges.
---
GAME INFO
---
Developer:
Active Enterprises
Publisher:
Active Enterprises
Genre:
Collection of games
---