Game description Addams Family, The - Dendy (NES)
In the base 2233 games Dendy



---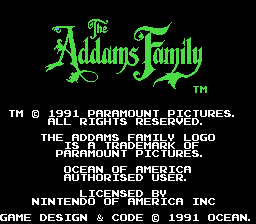 Addams Family, The
Dendy - NES
As one of characters of the movie of the same name - Gomez' a - we save other members of a family from different misfortunes. A heap of kvestovy elements, but enemies, as in usual browsers. We look for keys, potions and other, in passing raising all possible money.
"Addams Family, The" is the most usual platformer, with simple graphics and unimportant animation, and on the other hand - it has very cool gameplay, and a game very strongly tightens. It is a little gloomy, but at the same time very lovely. In it elements of classical horror films just abound, but all of them it is presented in such form that on a face the smile involuntarily appears.
A family Addams - the cult American family which is thought up in far 40th years by the caricaturist Charlz Addams. Addams managed to create the unique, adjoining on madness, and impregnated with black humour characters of members of a family.
All of us know
what ill fame games according to film licenses (or to any other licenses) possess and that most often they are almost neigrabelny piece of a program code. The Addams Family, fortunately, avoided such fate, but, alas, not completely and a game after all has decent quantity of geymdizaynersky mistakes, defects and the places entering into fury.
Syuzhetno a game is connected by
with the movie quite poorly - the family lawyer Addamsov, greedy to money, Talli Alford moves a family from their mansion. Mortisha, Vensdi, Pagsli, Larch and the Granny go to free the house and completely vanish. The lonely father of family Gomez should save all family members and at the end to meet in fight with the greedy lawyer and the uncle Fester who lost memory. Throughout of The Addams Family to players should investigate the lock Addamsov and the nearby territories filled with sendings to the movie and series.
Geympleyno, at first sight, a game represents the most usual platformer, but here not everything is so simple. of The Addams Family - it is a platformer with fair impurity of quest and that it to pass few to possess only one lightning reaction, but still it is necessary to include the brain and to be very attentive because each found subject or the saved member of family carries out the certain role in passing. Also around on levels money is scattered and to get to the final adversary it is necessary to collect 1 million - it forces to comb scrupulously all game territory in search of the confidential levels filled by dollars. In general it is not the most brilliant idea: to hide things, necessary for passing, in confidential places. As enemies ghosts, the flying skulls, skeletons, spiders and other living creatures, standard for games of such genre act here. The majority of reptiles is killed with an old kind jump on the head, a hall Screenshot with portretamino some to you it is necessary to trap. Everything listed looks not bad until as you will sit down at a game because already in a few minutes there will be burning hatred because of the disgusting miscalculation of collisions with enemies and objects; because of abysses over which it is possible to fly only having run up to the edge; because of a lot of any nonsense which is constantly pouring from above at the most inappropriate moment; because of the uncontrollable water level and the other small, but very annoying moments.
by
Graphics at a game average by the standards of of NES , but executed everything very accurately and tidily, and here with sounds something was not set - too them here a little. Music, as well as graphics, especially surprises with nothing. Pleases, however, that the main subject Addamsov is transferred to 8 bits quite not bad and it is known well.
Correct developers a cart of small defects and mistakes, a game could turn out much more fascinating and not such annoying. But even in this look she quite deserves acquaintance, especially for fans of a mad family.
---
GAME INFO
---
Game name:
Addams Family, The
---