Game description 1942 - Dendy (NES)
In the base 2233 games Dendy



---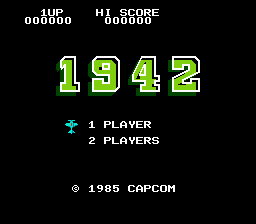 1942
Dendy - NES
1942 - a game that at one time received huge popularity and became the basis for a great series, visited almost all gaming platforms. First appeared in the arcades in 1984 and was made and published the now very famous studio Capcom. In 1985, she went on the NES.
Despite the popularity and good reviews about the game in 1942 can hardly be called a good game. You should start, perhaps small, with the story, or rather its almost complete absence of - here you play as an abstract of the American "Super Asa"alone at war with the entire fleet of Japan - no details, cut-scenes briefings or there is not. But this is not surprising for the time. Most interesting here one unusual fact - in the game, completely made by the Japanese, and manufactures, inter alia, in Japan, players will face in the brave American warriors fly to Tokyo, passing completely destroying the Japanese Air Force.
The game graphics are simple, poor and suffers greatly from the monotony - most of the time have to fly over the ocean, occasionally flying over the small uninhabited islands and only at the end can be seen under a city. It is worth noting also a bad design - models of enemy aircraft and their bullets merge with the texture of the island, and occasionally have to play blindfolded. Not happy also that in the later levels during a particularly fierce battle game starts to slow robust design.
Sound and Music. I find it difficult to find the words to describe how horrible, ugly and disgusting music in this game - nothing worse, I have not heard yet. It will take time before you are playing, bewildered realize that the intrusive and harsh noise, similar to Morse code, seasoned with strange rustling chaotic, and there is "music"accompaniment of this game! Sounds also do not shine - they are small, they are pale, monotonous and uninteresting.
In the game as much as 32 levels, on their passage given 3 life and an infinite number of sequels, because of this, in 1942 a very easy game, even though a large number of enemies in the latter stages. Varieties of enemy aircraft very little, all of them can be seen in a couple of first levels and then begin an endless repetition. Periodically, there are bosses - always one and the same large green bomber kills for 5-10 seconds. The final boss there. Occasionally there are groups of red planes of which fall powerups, calling you to help the little ships of allies or increase firepower, giving extra lives and destroy all enemies on the screen. No additional weapons are not available, there is only the possibility of 3 times per level to make a noose to avoid enemy fire, but this feature is completely useless, because the output of the loop is usually found in the same distress of which was trying to escape. Overall, the gameplay is very monotonous and boring, so few people on their own wish to go through 32 are exactly the same level.
With the game is available only if you are a hardcore fan of the genre or studio Capcom. The rest is better to look to its much more successful continuation.
---
---