Game description Adventures of Bayou Billy, The - Dendy (NES)
In the base 2233 games Dendy



---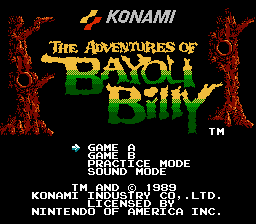 Adventures of Bayou Billy, The
Dendy - NES
In the game "Adventures of Bayou Billy, The" several types of a game in one. Here and a simple browser like of Beat' em Up (beat all of them) where the uncle in a hat which does not prevent it to beat with legs of all passers at all goes on levels, and a shooting gallery for the light gun, and the racing simulator. As well as from of Konami the fine sound has all games. Graphics did not pump up too.
"It' s up to you to rescue Annabelle! Do you have the courage to fight Gordon and his man? " - here that is written in a game prompt. Billey goes to save Anabel from Gordon's paws. On the way he will meet a great number of henchmen of the villain who will prevent to reach in all ways the boss.
to
And will be disturbed by them on three different types of levels:
-Levels in style of beat' em up where it is necessary to go and crumble all opponents on the way.
-Driving where it is necessary to try to reach to the destination, shooting back from attacking from cars and planes of opponents.
-Virtual shooting galleries. Before level management style - the light gun or the joystick is chosen - and we go to destroy enemies.
Council: for a game choose the emulator which well emulates the light gun.
Adventures of Billy Bayou AKA Mad City multi - a genre an action from the southern bayou a subject. History typical, your girlfriend was stolen rich the villain, and you have to travel that his mansion to beat its gang of bandits in attempt to receive it back. Though a game carried many interesting ideas as mixing of fight, the movement, and shooting in one big game, it it seems as fell to her face at a bad game. In principle, a game was incredibly difficult because regular games of the mechanic do not approach. Even if you were well of beat-em-ups , you will have hard time in military units. Shootings sections were very abruptly, but by means of Zapper was silly and, trying to move super sensitive the crossing with the controller took a lot of practice. Moving the section it was easier to control, but also it is boring, only with small variations throughout all game. All this aside, a game really to hold you to come back again and again, but even about will be upset and to throw them the controller at some point. But were available the version of a game was a little more balanced from more weakly enemies, but elements of management were not better at all.
As well as most Konami the large called games, adventures of Billy Bayou had worthy music for its day, including several good vigorous melodies. Intro the cut-out scenes has quality of a sound that you do not expect from the game NES , and finishing musical is one of the best. Also is present at a game surprisingly good words for the name to a form 1988. Titles and awards of music in a game on the basis of information from internal the sound test. Composers were compelled by of Konami producers to use pseudonyms. To take the worthy place in the history, we contacted Atsushi Fujio who gave us real names of composers. Atsushi Fujio told that it I do not compose music, but it arranged music and manipulations data. For some reason, June of Funahashi' transfer s in the USA release, but not the Japanese release. His name replaces Kiyohiro Sada' s.
---
GAME INFO
---
Game name:
Adventures of Bayou Billy, The
---