Game description Adventures of Dr. Franken, The - Dendy (NES)
In the base 2233 games Dendy



---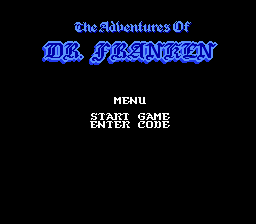 Adventures of Dr. Franken, The
Dendy - NES
Not issued adventure game based on a story about Frankenstein. A platform game with a side view, in a leading role doctor Franken. Purpose of the game "Adventures of Dr. Franken, The" - to collect on all rooms of the extensive lock of a part of a body of the girlfriend of Frankenstein and to collect them on a table for revival. For orientation in space there is a card.
"Adventures of Dr. Franken, The" - perfectly put platformer with an original gameplay, qualitative graphics, but, unfortunately, not published by the & quot company; Elite" in masses.
A game is mix of a platformer and quest where the main character - doctor Franken ( of Dr. Franken ) - travels around the huge residence. The territory for a research huge, on the way will meet a set of ways and forks, and not all of them will be open at once. We should make effort fairly to find keys which open certain doors.
But in
---
GAME INFO
---
Game name:
Adventures of Dr. Franken, The
---