Game description 1943 - The Battle of Midway - Dendy (NES)
In the base 2233 games Dendy



---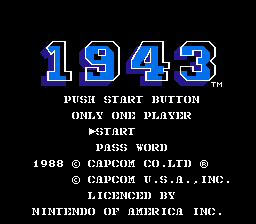 1943 - The Battle of Midway
Dendy - NES
The Battle of Midway is an example of a good sequel: innovations in moderation, nothing more. Developers have made some changes to the schedule and have more variety in the gameplay. In the game The Battle of Midway added to the "energy"that serves as the scale of life, which, like fuel, decreases over time. Also a bit of vitality you have taken away when hit, or a bullet of the enemy, as well as using special weapons. There was a possibility of leveling the attack aircraft.
In the game The Battle of Midway the player will not just wade between aircraft carriers and destroyed quite a variety of enemy aircraft. During the game, attack can descend to a lower altitude and shoot the flying enemies there. It added the Japanese fleet, which can destroy the systematic shooting of guns on board.
Developers cool embellished the game The Battle of Midway, and now we can see the cute back backgrounds clouds instead of dull Islands on the background of blue sea in the first part of the game .. However, now some enemy planes belonging to the peak, it became more difficult to see against the background . Game The Battle of Midway has become more dynamic by increasing the speed of the aircraft operated by a player, and enemies become more intelligent. There is another innovation - by pressing the "A", we perform a super hit, which sweeps away all enemies within the game screen. Disappointing is that in the game The Battle of Midway developers removed the opportunity to play together.
---
GAME INFO
---
Game name:
1943 - The Battle of Midway
---