Game description Adventures of Lolo 3 - Dendy (NES)
In the base 2233 games Dendy



---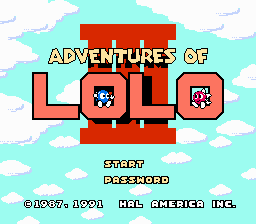 Adventures of Lolo 3
Dendy - NES
Game "Adventures of Lolo 3" continuation of adventures of Lolo. The girlfriend is saved, but the world is not explored yet and the set of riddles needs to be solved still and to help much. Differs from the previous part in a large number of the puzzles scattered on quite big world. As before release of two Japanese parts in America one game with the similar name was already released, serial numbers 2 and 3 were appropriated to new versions. Thus, the third part of a game in America is the second part of a game in Japan.
Lolo, Lala and their friends peacefully lived for many years, since defeat of the Great Devil (in Lolo's Adventures 2). But suddenly his son and the successor, the new king of Eggerland , began to extend the strange capsule which turns inhabitants to stone. Only Lolo and Lala, being basked in the sun on the bank of the lake between two kingdoms, were saved this terrible destiny. Brave in the face of adversities, our hero and the heroine went together to win against the angry king and dumped his spells. Only you can help our brave heroes.
A plot in a game such. Once Lolo ( of Lolo ) and Lala ( of Lala ) sat on the river bank and suddenly noticed how something occurred in their kingdom. Having returned, they saw a strange picture - all their friends turned also into stones! On the horizon the silhouette of the Spiteful Demon only flashed. So, it is time for main characters to go to a travel again!
Developers tried wonderfully well, in
---
GAME INFO
---
Game name:
Adventures of Lolo 3
Genre:
Logical game. Puzzle
---