Game description Ai Sensei no Oshiete - Watashi no Hoshi - Dendy (NES)
In the base 2233 games Dendy



---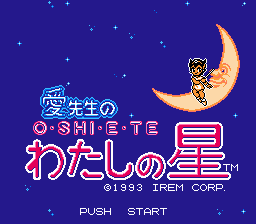 Ai Sensei no Oshiete - Watashi no Hoshi
Dendy - NES
"Ai Sensei no Oshiete - Watashi no Hoshi" - a virtual horoscope. Besides, if I correctly understood the name, love. And can and is not present - further the name business did not reach.
Something Japanese, something connected with astrology: a love horoscope for residents of the land of the rising sun. A game carries on traditions of other simulator in the similar Universe - "89 Dennou Kyuusei Uranai".
This game is a love horoscope. A typical game for girls.
---
GAME INFO
---
Game name:
Ai Sensei no Oshiete - Watashi no Hoshi
---