Game description Aigiina no Yogen - From The Legend of Balubalouk - Dendy (NES)
In the base 2233 games Dendy



---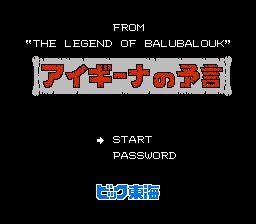 Aigiina no Yogen - From The Legend of Balubalouk
Dendy - NES
Role-playing game , rather primitive on graphics, "Aigiina no Yogen - From The Legend of Balubalouk". The guy in a green suit like Robin-Goode and with a bandage on the head moves on sections of the card and visits various places, and also beats off different monsters. When calling a vault a game switches in the mode of a platform browser with a side view.
In the game "Aigiina no Yogen - From The Legend of Balubalouk"- Jason, in a game the main character goes to save the princess of Laira, the daughter of Aighina (Aigiina). She only knows how to use aura of a star; which have to be collected in five vaults and again Connected in the sixth. Players have to kill enough enemies to open a ladder in an order to progress. Some stages also contain secrets and can have additional methods for continuation in a game.
The Japanese RPG where you should go to a travel with the kind soldier Balubalok. A game is not something uncommon. After the main character runs in some lock, standard bustle from monsters and collecting of all objects begins.
---
GAME INFO
---
Game name:
Aigiina no Yogen - From The Legend of Balubalouk
---