Game description Aladdin - Dendy (NES)
---
---
---
---
In the base 2233 games Dendy



---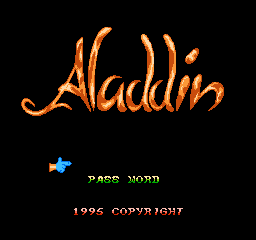 Aladdin
Dendy - NES
Game "Aladdin" - one of the best piracy creations for of NES . The port of Aladdina with Super Nintendo, and rather detailed in details, despite absolutely different levels of technical capabilities. Here, as well as in the original, Aladdin can not only run and jump, but also be tightened on hands, hang on crossbeams, do a somersault through the head, find bonuses and play a roulette between levels. The first two levels are copied to a disgrace precisely. In certain cases meets in the form of Haque the main character - the seaman Papayem.
The plot of a game follows the known events of the animated film of the same name & mdash; the artful vizier Jafar cunning compels the street tramp Aladdin and his monkey of Abu to make the way in the Cave of Miracles where the magic lamp is stored. In it there lives the Genie which becomes the friend of the young man and grants his desires. Ginny's turns Aladdin's into the prince, and that appears in Agrab in shape of Ali-Ababua and the Jasmine wins love of the princess . However, Jafar recognizes the street tramp in the newly made prince and zapoluchat a lamp, having become the new owner of the Genie . Having won against of Jafar , Aladdin proves that he is worthy princesses, and the sultan of Agraby , the father the Jasmine , gives blessing on marriage of the daughter with Aladdiny .
The player operates Aladdiny which has to pass through several levels, founded on stages from the movie. In it interfere with it the guard of the sultan and various animals. It can protect itself(himself), being active a saber and throwing apples into enemies. The indicator of the state of health of the player is the lamp with a smoke from a neck & mdash; the it is shorter, the less the player has lives (in the computer version of a game the indicator of health is the person of Gin which expression changes from a smile to horror in process of reduction of health of Aladdin ). The player moves on various constructions and to platforms, using the bewitched ropes tense by ropes, ladders and chains to move there where it is necessary. In the Cave of miracles Aladdin also uses the stalactites and huge sinks lifted up by fountains of water or fire.
---
---