Game description 1945 - Dendy (NES)
In the base 2233 games Dendy



---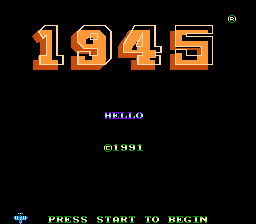 1945
Dendy - NES
Game 1945 - letalka shooter with a view from the top. Fly small propeller fighter. In his arsenal of guns and bombs. But to destroy any targets - both ground and air - can be any type of weapon. Simply and without frills it painted, but very pleased with the music in the game.
Game 1945 - is pirates for consoles Dendy. It may be noted that in 1944 took the game Dendy, a few have made changes in the game and put on sale.
Tell the same about the game can be not much. Before us is a vertical scrolling shooter game, top view. Before the beginning of each level in the game, the guide gives the task to run. The successes of the pilot on the field of battle, for which you can get points, evaluated depending on how many were destroyed enemy aircraft carriers. The slightest contact with any enemy combat unit leads to "death", the stock of lives in the game is also limited. But if you choose continue, after each defeat, it is infinite.
---
---