Game description All-Pro Basketball - Dendy (NES)
In the base 2233 games Dendy



---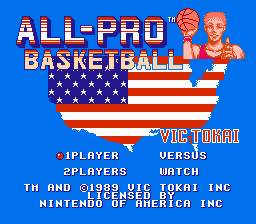 All-Pro Basketball
Dendy - NES
"All-Pro Basketball" - the quite good simulator of basketball. Decent music, nice graphics and interesting game process. The view of the basketball field is given because of one of grids, towards another. Any prospect. Unlike other games of a similar genre, a look the game field here not sideways, and from above.
In the game "All-Pro Basketball" at choice eight teams of the American national league, differ only in the name, color of a form and symbolics. It is, perhaps, one of the most difficult simulators of basketball on the prefix of NES : it is difficult as in development, and directly in the game.
Graphically game "All-Pro Basketball" at height (of course, for the sports simulator on of NES ). Episodes when they show close the moments before clogging of a ball in a basket are especially good. Something similar can be seen also in "Double Dribble", but believe - here everything much more beautifully!
---
GAME INFO
---
Game name:
All-Pro Basketball
---