Game description Amagon - Dendy (NES)
In the base 2233 games Dendy



---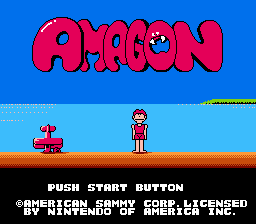 Amagon
Dendy - NES
Game "Amagon", quite rather stupid toy about the little man in red with the gun and a foolish grin on an ugly face. He runs and shoots living creatures, moving since one end of the island on another. At all the homeliness, the American version is considered classics along with Mario and other games.
Before us incredibly fascinating platformer, with quite good graphics and a sound, and also with a peculiar humour. The main character with one submachine gun in hands has to pass through the desert island which is divided into six levels.

The island is full of any living creatures, and cartridges, alas, have property to come to an end quickly. The ammunition a bonus having an appearance of cartridges is replenished. But when cartridges come to an end, the most interesting begins: having undertaken a gunpoint, our hero is capable to destroy the rival in infighting. Really, it becomes very cheerful when it begins to belabor a butt of birdies and snakes! But with a game more largely such way of punishment is more similar to opposition of the bicycle with the combine. The player has not enough chances. But even in such situation there is an exit. If you could save up enough bonuses, then can reincarnate in of Megagon – the being who is not owning skills of use of firearms, but having three tons of muscles which he uses in hand-to-hand fight. Besides, he jumps much above and its scale of life very is pleasing to the eye.
---
---