Game description 1991 Du Ma Racing - Dendy (NES)
In the base 2233 games Dendy



---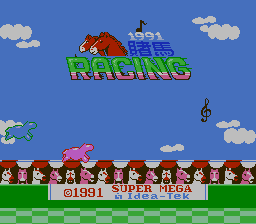 1991 Du Ma Racing
Dendy - NES
The game in 1991 Du Ma Racing, there are two modes: race mode and tote mode. In race mode, the player takes control of a rider on a white horse. By simple manipulations need to try to come first to the finish. The tote mode, you must choose your hero, your bet and simply follow the progress of the race.
1991 Du Ma Racing - pretty boring game with unimportant graphics and poor sound. In addition, entirely in Chinese, so no value.
Game 1991 Du Ma Racing is dedicated to horse racing and provides 2 modes:
-Mode Race - Race mode. 2 rider compete with each other.
-Mode Gamble - betting on horse races. Selected from 1 to 6 players bets on one of the five horses.
---
GAME INFO
---
Game name:
1991 Du Ma Racing
Developer:
Idea-Tek, Inc.
---