Game description Ankoku Shinwa - Yamato Takeru Densetsu - Dendy (NES)
In the base 2233 games Dendy



---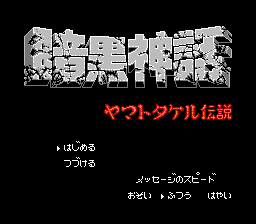 Ankoku Shinwa - Yamato Takeru Densetsu
Dendy - NES
It is an adventure game in which all actions are carried out through text menus. Killed the father of Takesha 10 years ago . In his death there was a lot of mysterious. When of Takesha became 13 years, it found the old book in the room of the father. In this book the card lay. The employee of finance corporation from of Nagano appeared the sender . The letter came a month before the death of the father of Takesha . And here of Takesha goes to of Nagano to try to find the author of the letter and it is possible to shed light on the death of the father.
"Ankoku Shinwa: Yamato Takeru Densetsu" there begins the narration while of Yamato was only thirteen years old. His father is killed under strange circumstances. The boy looked through things of the father and found the letter which became the first proof in murder investigation. From this point we begin to play for the main character.

"Ankoku Shinwa: Yamato Takeru Densetsu" - quest in the Japanese style with prospect from the first person, one of the few in such style of execution for of NES . By means of the menu on the screen it is possible to choose actions (to look, take, to move also others).
---
GAME INFO
---
Game name:
Ankoku Shinwa - Yamato Takeru Densetsu
---