Game description Anticipation - Dendy (NES)
In the base 2233 games Dendy



---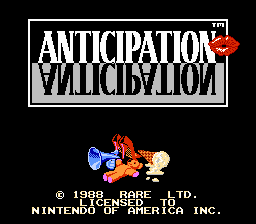 Anticipation
Dendy - NES
A game in guessing of the images drawn with points. At the beginning of the game the hint is given: a part of points are led round by the line, further you need to guess what is drawn on the picture. Can play up to four people.
"Anticipation" - the logical game aimed, first of all, at the development of thinking in children. Cards of four flowers are in the field spread out: yellow, blue, red, green. Each of flowers belongs to one of subjects (for example, green it is connected with the alphabet), and on this subject it is necessary to guess that it draws a pencil.
The gameplay is similar
to board game, such as of Pictionary . One of four objects of a game is provided to the player: pair of women's shoes, horn, ice cream and Teddie's bear. On the course of a game the picture is slowly drawn, the first person has to hoot and guess the correct answer if he answers correctly, then moves forward across the field. The quantity of cages for the movement depends on quantity of points.
---
---