Game description Arch Rivals - A BasketBrawl! - Dendy (NES)
In the base 2233 games Dendy



---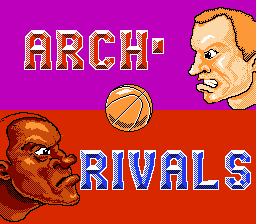 Arch Rivals - A BasketBrawl!
Dendy - NES
The game Arch Rivals - A BasketBrawl! rather not the bad simulator of basketball which main feature is the possibility of a game without rules. As it is sometimes pleasant to punch in the opponent's back when that second earlier took away at you a ball directly from under a nose! But, be careful: the opponent can be very aggressive too!
Each game consists of four periods, four minutes everyone. Each team consists of two players. If on the end of entire four periods on a board the draw, then is added extra time. Sometimes from crowd on a floor throw banks and other garbage. If the player with a ball steps on them, it will fall and the opponent right there will select a ball. At the beginning you choose one of eight players of the team and begin a game. Opponents try to select every second a ball, and cases when at a basket of opposite team the whole crowd of the computer basketball players striving to incline the account in the party gathers are frequent. For usual hit of a ball in a basket give 2 points, but it is possible to contrive and make the tank (super-throw), having received 3 points.
A possibility of the choice of the character for whom you will play, and also your opponent in the attack. There are special throws, inserts where the trainer constantly shouts at players, after each passed ball. Sprayta of players look very well. At a game there is a humour, pleasant music and sounds. A worthy game, especially for fans of basketball.
---
GAME INFO
---
Game name:
Arch Rivals - A BasketBrawl!
Publisher:
Acclaim, Metro
---