Game description Argos no Senshi - Dendy (NES)
In the base 2233 games Dendy



---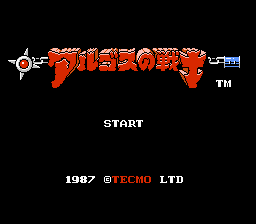 Argos no Senshi
Dendy - NES
Game "Argos no Senshi" - a browser with a side view. On the fantastic world the little man with a board and a morning star with which he handles as a yo-yo toy runs... Bonuses (asterisks and other prizes) occasionally fall out of enemies snails. And at the level peshcherka where it is possible to talk to some people come across or to do some fighting with monsters.
In the American version this game is called "Rygar", and it is the Japanese version.
Game "Rygar" it was created by the company of Tecmo in 1986 and originally she was let out in of Japan on arcade machines (under the name "Argos no Senshi: Hachamecha Daishingeki").
---
GAME INFO
---
Game name:
Argos no Senshi
---