Game description Arkanoid II - Dendy (NES)
In the base 2233 games Dendy



---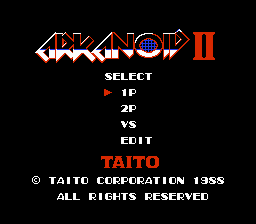 Arkanoid II
Dendy - NES
Second part of an entertaining arcadian toy "Arkanoid" where it is necessary to beat out color bricks by means of the ball which is jumping aside from a certain racket. Here levels and more developed plot and even bosses are already much more various.
"Arkanoid" welcome one of the most known games, it is equated to a tetris. This certain similarity of tennis, we beat off a ball and we break cubes. Different bonuses which help to play drop out of cubes.
In the game "Arkanoid 2" you will need to get balls on spaceships. When you gets to them, they begin to pour, and you, thus, can win a victory. You on the way will have a set of balls which are released by the ship from a mouth. Be careful of them. Here you are expected by many entertaining levels. As you will need to be careful of balls, speed of the performed operations will be very important.
---
GAME INFO
---
Publisher:
Taito Corporation
---