The game - Puzzle Tsunagete Pon - Neo Geo Pocket | NGP
9 games Neo Geo Pocket



---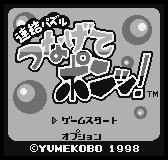 Puzzle Tsunagete Pon
Neo Geo Pocket - NGP
Another interesting logic game. For those who have nothing else to do in the office.
Puzzle Tsunagete Pon is a tile matching game in which the player must clear blocks that occupy one of a 9x10 block grid. the player removes these blocks by connecting two or more discrete sections of each type of block. This linkage is achieved by firing one-block-width pipe blocks from a player-controlled run to the bottom of the screen, where the player can only move left or right.
Pipes have as many varieties as the number of block types in a given level, and the type of pipe being fired is determined by the first block hitting the first burnt block of the new pipe. The existing pipe can be cancelled.
In the main puzzle link game mode, the playing field is vertically scrolling so that the blocks must be cleared to go down the screen, one row at a time. If any block or blocks pass the line at the bottom of the screen that separates the launcher from the field, the player is not level. Warning, a sound will play when any block is delivered in two block-width lines, and the character on the sidebar will become visibly distressed.
There will be two to four varieties of building blocks, filling up to any given level, not counting the two unique blocks marked "C". In order to complete a level in the main game mode, the player must pass enough building blocks to find two unique "C" blocks and link them together.
If "C" blocks before, the hourglass-shaped timer on the left side of the screen drains, the player gets with the game's collectible "enchantment card" into a fictional creature. These collectible cards can be viewed through the menu, but are otherwise unusable.
Blocks left free after connecting clears other nearby blocks will fall straight up, and may knock out additional blocks if they land next to previously separate blocks of the same type.
Normal mode has three difficulties: Easy, Ave, and Hard. Easy Mode contains five slowly evolving skill levels (0-1 to 0-5), after which the player is expected to move up to Ave Mode-short for 'Medium' mode-in order to start the campaign at level 1- one. Hard mode also starts at level 1-1, but blocks move down the screen at a faster rate than in easy or medium mode.
There are 46 rounds in the normal campaign mode. This includes one easy level training mode with five rounds, seven levels with five rounds each, and a final level eight with six rounds.
Normal mode features an arcade-style scoreboard that keeps track of the highest score a player has achieved on a single sit without playing. These ratings can be viewed at any time from the options menu.
---
GAME INFO
---
Game name:
Puzzle Tsunagete Pon
Platform:
Neo Geo Pocket (NGP)
---