The game - Coded Arms - PlayStation Portable | PSP
750 games PlayStation Portable



---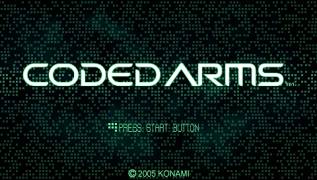 Coded Arms
PlayStation Portable - PSP
Are you ready for furious battles in a virtual reality that has suddenly gained intelligence and rebelled against its creators? Coded Arms is the first FPS (First Person Shooter) game for the PSP portable entertainment system. You are a professional hacker, the only person who can resist the evil virtual mind created for training special forces and simulating an alien attack on Earth.
You have to clear the virtual reality from the army of hostile creatures - humanoid soldiers, giant insects and robots guarding the evil mind that gave birth to them. You will also have to fight with giant "bosses" - the most dangerous and powerful opponents in the game.
At your disposal is an arsenal of 30 types of weapons - pistols, machine guns, pulse blasters, explosives, a sniper rifle, etc.
Fantastic graphics, 5 unique game worlds - each with the highest detail, numerous special effects and dynamic shadows.
Multiplayer mode is supported - up to 4 players simultaneously via Wi-Fi. There are several modes of collective play - Deathmatch, Keep the Mark and Last Man Standing.
---
GAME INFO
---
Platform:
PlayStation Portable (PSP)
---