Game description Activision Hits: Remixed - PlayStation Portable (PSP)
In the base 750 games PlayStation Portable



---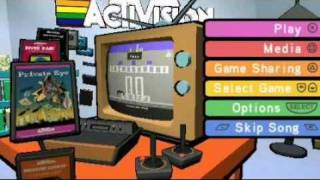 Activision Hits: Remixed
PlayStation Portable - PSP
At the beginning of an igrostroyeniye these unpretentious toys caused in us the real delight and a storm of emotions. All of them consigned to the past, & hellip; to regenerate in 20 years under the flag of PSP. Plunge into the nostalgic world of old prefixal hits from Activision & ndash; the recognized master of arcadian games for prefixes. More than 40 classical games for Atari - River Raid, Demon Attack, Laser Blast and many others entered a selection.
of the Game for every taste. In Activision Hits Remixed more than forty various projects of the past are collected. Pitfall, Kaboom!, Chopper Command, Stampede, Keystone Kapers— careful selection there underwent only true masterpieces of Atari 2600!
the Multiplayer without borders. Go to a fascinating adventure on the Golden Age of video entertainments together with companions. The wireless WiFi technology will allow to spend time even more cheerfully!
of Activision Hits Remixed NonStop! Play to the subway, the bus, houses or on study, without caring that each episode should be passed up to the end. The new system of preservations is worked on & laquo;
---
GAME INFO
---
Game name:
Activision Hits: Remixed
Platform:
PlayStation Portable (PSP)
Developer:
Digital Eclipse
---