Game description Coded Arms: Contagion - PlayStation Portable (PSP)
In the base 750 games PlayStation Portable



---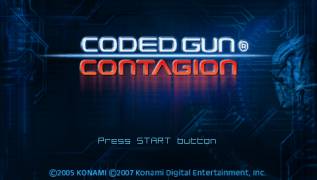 Coded Arms: Contagion
PlayStation Portable - PSP
After the victory over artificial intelligence of A.I.D.A. military made everything not to allow a repeated revolt of the program. The improved system of protection controlled each action of the virtual mind created for a training of special troops and imitation of attack of aliens to Earth. But the new threat hid not inside, and outside A.I.D.A.! The virus created by cyber-terrorists completely changed virtual reality, again having turned it into the real nightmare!
to prevent leakage of top secret information, military connected to A.I.D.A. professional hacker. But it turned out that to stop a virus, having restarted security system, it is impossible. The parasite took control over a military unit of the program and is ready to protect himself from any attack. Now elimination of the file spy remains only the only way to stop infection. But how to make it, being in the center of the hostile virtual environment?!
the Virtual reality is deadly
! The virus changed the program so that now you & mdash; her only opponent. Alien monsters, robots and soldiers of special troops united and look for you on all A.I.D.A levels. Be ready to reflect attack at any time!
Management for every taste! The style is characteristic of each player. Flexible settings allow to set parameters convenient to you. Correct management and set to virtual monsters the real scolding!
will drop down
of Weapon for all! At choice more than thirty removers are offered. Assault rifles, machine guns, grenade launchers, plasma and electric guns & mdash; such arsenal will be enough for cleaning of ten A.I.D.A programs.!
Learn
what artificial intelligence is capable of! A.I.D.A. & mdash; the program intended for a training of elite divisions. Form with friends a group of eight people and prepare for severe tests after which any war will seem idle walk.
---
GAME INFO
---
Game name:
Coded Arms: Contagion
Platform:
PlayStation Portable (PSP)
---