Game description Aedis Eclipse: Generation of Chaos - PlayStation Portable (PSP)
In the base 750 games PlayStation Portable



---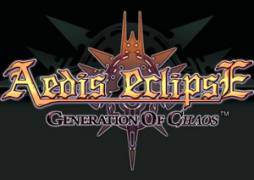 Aedis Eclipse: Generation of Chaos
PlayStation Portable - PSP
Divine world: to the world where Angels and Demons lived in the world, there is a tragedy as the king of demons was killed with radical group of angels. Now, war between two fractions burst, and you have to stop them from destruction of the world...
Top world: the young knight arrived to a kingdom where the ruthless governor governs. His companions were captured royal army, and you have to save them before it too late...
Nizhny Novgorod world: one more boring day at school suddenly is interrupted sudden bombing. While most of students to run for safety, you decided to look at fight. In strange turn of events, you involved in bloody war....
the Second generation of Chaos the name of strategy on psp (on the basis of Gpts V on PS2) happens in this world are divided into three contradictory planes. The main character and history therefore players can test three different histories at once has each world. Depending on the world, the player begins with, the level of complexity will differ. The lower world is considered as the beginner's stage from many textbooks for the guide of the player through a game. The world is higher, you will play, the more difficult
---
GAME INFO
---
Game name:
Aedis Eclipse: Generation of Chaos
Platform:
PlayStation Portable (PSP)
Publisher:
Nippon Ichi Software
---