The game - Crazy Taxi: Fare Wars - PlayStation Portable | PSP
750 games PlayStation Portable



---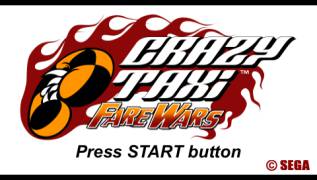 Crazy Taxi: Fare Wars
PlayStation Portable - PSP
In a big city, everyone earns a living as best they can. Someone sits in a cozy office over piles of business plans, someone lowers all the property in a casino, and someone goes to work as a taxi driver. Fearless "carriers" behind the "wheels" of yellow cars arrange real survival races. Anyone who riskily slips through a red light and takes passengers right from under the noses of competitors can safely count on the main prize. Worthy tips and the respect of colleagues - that's the reward for the saved seconds!
Taxi drivers ride not on sports tracks, but on a huge "living" city. Pedestrians and other cars strive to throw themselves under the wheels, and insidious rivals stubbornly try to push you off the road. But in the hunt for a long dollar, the rules of decency do not apply - get ready for lawlessness! Dozens of shocking accidents, dizzying speeds, an indescribable sense of excitement and a collective mode that appeared for the first time in the Crazy Taxi series will appeal to both true fans and newcomers to the racing genre!
Challenge accepted! If competitors accepted the order first, this does not mean that they will get the money. Courage and fast driving will help to intercept customers. But if the passenger is already in another car, various tricks will help you, with the help of which it is easy to annoy your opponents!
A good taxi driver is an impudent taxi driver! And who from your company is the most skillful and courageous, the collective game will show. WiFi wireless technology allows you to connect several gaming systems at once and arrange truly crazy races!
Pocket Taxi! Crazy Taxi: Fare Wars is a great way to have fun wherever you are. Take your PSP with you and three dozen mini-games will help pass your free time not only for you, but also for your friends! There are many rides to choose from that will test your reaction and driving skills.
There is reason to be proud! The best races can now be saved and shared with friends. Let them try to beat your record, although even if they succeed, you can make a new record - better than the old one!
---
GAME INFO
---
Game name:
Crazy Taxi: Fare Wars
Platform:
PlayStation Portable (PSP)
Developer:
Sniper Studios
---