Game description AFL Challenge - PlayStation Portable (PSP)
In the base 750 games PlayStation Portable



---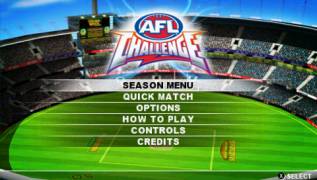 AFL Challenge
PlayStation Portable - PSP
Rugby ... Another great sport that attracts millions of people around the world! The Australian championship has a special status in the world, which is why more than a dozen excellent games were created in his honor.
One of these was the AFL Challenge, which got its start from developers in 2009. This sports simulator turned out to be expected, as earlier several more similar ones appeared before it. Naturally, of all the previous ones, this one became the most successful.
What could be the plot of a sports game? If it comes to rugby, then everything will "revolve" around this game.
The 2009 Australian Rugby Championship has become an unforgettable new talent. This is exactly what developers would like to emphasize a bit when creating such a great application.
16 diverse teams that must actively fight for the championship - this is what is the main theme of creating this great application. Of course, it will be quite difficult for everyone to fight, so there is no point in isolating someone.
The creators paid special attention to stadiums, real stadiums, which turned out to be very attractive. The audience has not yet seen such realism in a series of rugby sports.
Actually, you could expect anything from the developers, but this time the emphasis was on the easiest way to manage. Rugby is a team game, with a constant "flea market". I had to fix a lot of problems, I had to look for realism, give the players intelligence. In principle, the developers for the year 2009 coped with the task.
If we talk about the period of the creation of this game, we could work on the players. In the process of active struggle, you don't understand very well where which one is. At some moments, everything merges completely, you get the feeling that you can't see your favorite star.
AFL Challenge was exactly the game that was supposed to show itself in 2009, because it was at this point in time that sports simulators did not show any special results.
---
GAME INFO
---
Platform:
PlayStation Portable (PSP)
Developer:
Wicked Witch Software
---