Game description Daxter - PlayStation Portable (PSP)
In the base 750 games PlayStation Portable



---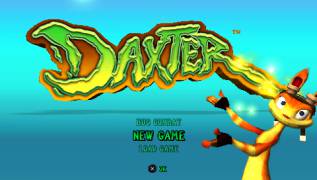 Daxter
PlayStation Portable - PSP
Jak and Daxter are popular among players not less, than Van Damme and Stallone among film fans. The unseparable couple went through the mill, with honor passed the most difficult tests and did not lose sense of humour. Here only to Dexter now not before laughter. Someone from numerous enemies kidnapped Jack, and Deks has no the slightest concept where to look for the friend. But he is full of determination to release the workmate and to punish villains.
of Daxter, developed exclusively for PSP, the series bring to new level. For the first time Deks, earlier always remaining playing a supporting role will become the main hero of dangerous adventures. The modest sizes of an amusing small animal do not facilitate his existence at all, however the just anger and persistence sweep away all barriers. Nevertheless, without your support to the daredevil it is necessary. So for what you wait? Jack and Dexter again need your help!
of Feature of a game: the Hero is resisted by huge bugs! Predatory insects are capable to break off it on small pieces. Fortunately, Deks is dexterous and quick, the main thing - not to yawn!
Everything is not as simple as it seems. The plot of a game is worthy screen versions. History abounds with unexpected opening and improbable events which put everything upside down. During the wanderings of Deks will come to be in Haven City, will find a set of the proofs prompting location of the friend and suddenly learns that it looks for Jack at all not where it is necessary.
you is waited by a big, fascinating travel. Twenty five episodes are scattered on fifteen levels. Pieces of the real world in a game are mixed with illusory reality which opens to Dexter in a dream.
you did not see
of Such weapon yet! Jack and Dexter were always original. Having appeared in private with dangers, Deks did not strike with the person in dirt. The arsenal of the hero includes a universal Fly swatter, the Spray which is easily turning into a flame thrower and it is a lot of other unusual weapon.
Help Deks together. Thanks to wireless WiFi-communication, can participate in adventures from two to four players.
---
GAME INFO
---
Platform:
PlayStation Portable (PSP)
---