Game description Def Jam Fight for NY: The Takeover - PlayStation Portable (PSP)
In the base 750 games PlayStation Portable



---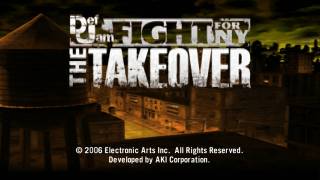 Def Jam Fight for NY: The Takeover
PlayStation Portable - PSP
When "misunderstanding" prevails and the ingenious interweaving of phrases no longer plays a role, the rare hip-hop star will miss the chance to make a real Def Jam Fight for NY: The Takeover!
Armed with bottles, bats, and steel pipes, America's loudest, richest, richest people find out relationships right on your screen! It doesn't matter how many "pants" weigh on the neck, how many golden teeth are in the mouth, or what size discs the new "hammer" has. The streets of New York respect only the strong fist and the reaction of the tiger. Fight for leadership status among real men!
What kind of people and without security!
Among the bones breaking onto the streets you will not find a single ordinary guy. Busta Rhymes, Carmen Electra, Lil 'Kim, Ludacris, Method Man, Redman, Snoop Dogg and Xzibit - this is not a complete list of angry rappers.
There is an extreme in any mess!
And Def Jam Fight for NY: The Takeover is no exception. The twisty plot will reveal the secret of an ominous character named D-Mod, who seized power in the city of lights.
When traveling, look around!
Night streets are not safe for you tatami sports clubs. The crowd will instantly turn into a multi-armed rival. Armed spectators always have their own opinion about who should stay on their feet.
Create your rapper.
At your disposal are thousands of all kinds of little things, including tattoos, as well as a sea of ​​clothes from Reebok, Phat Farm, Shan John, Jordan, Ecko Unlimited, Enye and other famous brands.
Reason your superiority.
You can shoot down arrogance with presumptuous "stars" by the techniques of five martial arts. Sambo, kickboxing, wrestling, freestyle wrestling and another secret style are presented to your court.
Scuffle without wires!
Tired of muting virtual opponents? Switch to real ones, since the network features of PSP allow. Choose your favorite fighters and go ahead, sort things out!
---
GAME INFO
---
Game name:
Def Jam Fight for NY: The Takeover
Platform:
PlayStation Portable (PSP)
Developer:
AKI Corporation
Publisher:
Electronic Arts
---