The game - Air Conflicts: Aces of World War II - PlayStation Portable | PSP
750 games PlayStation Portable



---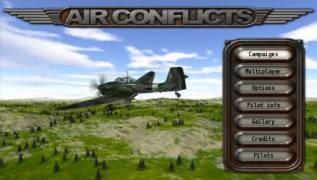 Air Conflicts: Aces of World War II
PlayStation Portable - PSP
The game features authentic aircraft models, 13 campaigns with over 240 missions, and excellent graphics, immersing the player in a rich, realistic world."
Air Conflicts is an arcade simulation of World War II military aircraft based on real events. Gameplay includes aerial combat, object bombing and other overland missions.
Missions are based on the main historical events of World War II. For successful sorties, the player receives awards and new titles. You can play as the US Air Force, British Air Force, Luftwaffe or the Red Army. In a separate gallery you can see three-dimensional models of aircraft and performance characteristics of their real prototypes.
---
GAME INFO
---
Game name:
Air Conflicts: Aces of World War II
Platform:
PlayStation Portable (PSP)
Publisher:
Graffiti Entertainment
---