Game description Alien Syndrome - PlayStation Portable (PSP)
In the base 750 games PlayStation Portable



---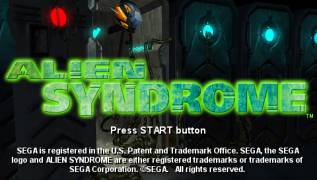 Alien Syndrome
PlayStation Portable - PSP
There passed those times when thousands of nuclear warheads and the huge military space fleet were responsible for safety of the planet. Now new troops & mdash cope with any threat; genetically changed people, each of which is capable to resist to the whole army of alien aggressors alone. Main character of Alien Syndrome, brave warrior Aileen Harding & mdash; one of these superpeople. It should reflect the shattering attack from deep space. Alien Syndrome & mdash; this is the dynamic fighter with elements of tactics and strategy developed especially for PSP. The dangerous campaign in a den of newcomers with the purpose to neutralize enemies even before disembarkation to Earth is necessary to you. The spaceships teeming with disgusting creatures, the thrown human colonies and far-out planets will hospitably open the doors before Aileen, but will hardly let out her from a trap. It is necessary to lay itself a way literally on bodies of enemy soldiers.
All tasks are unique
! At the beginning of each episode of Aileen chooses the weapon and equipment necessary for this operation. Tasks strikingly differ from each other therefore competent equipment has paramount value.
Arsenal of universal scale! For it is deceptive fragile appearance of Aileen the real soldier without fear and reproach disappears. She skillfully handles twenty types of weapon among which there are flame throwers, multibarrelled laser rifles, biological guns and incendiary grenades.
Shoot intelligently! At each type of weapon & mdash; the merits and demerits. Efficiency of its application is influenced also by personal skills of the heroine. Having competently picked up an arsenal, you will easily be quit with uninvited guests from other galaxy!
the platoon has more chances! If alone it is not possible to cope with alien monsters in any way, call companions. In fight against aggressors four fighters can combine efforts at the same time.
---
GAME INFO
---
Game name:
Alien Syndrome
Platform:
PlayStation Portable (PSP)
---